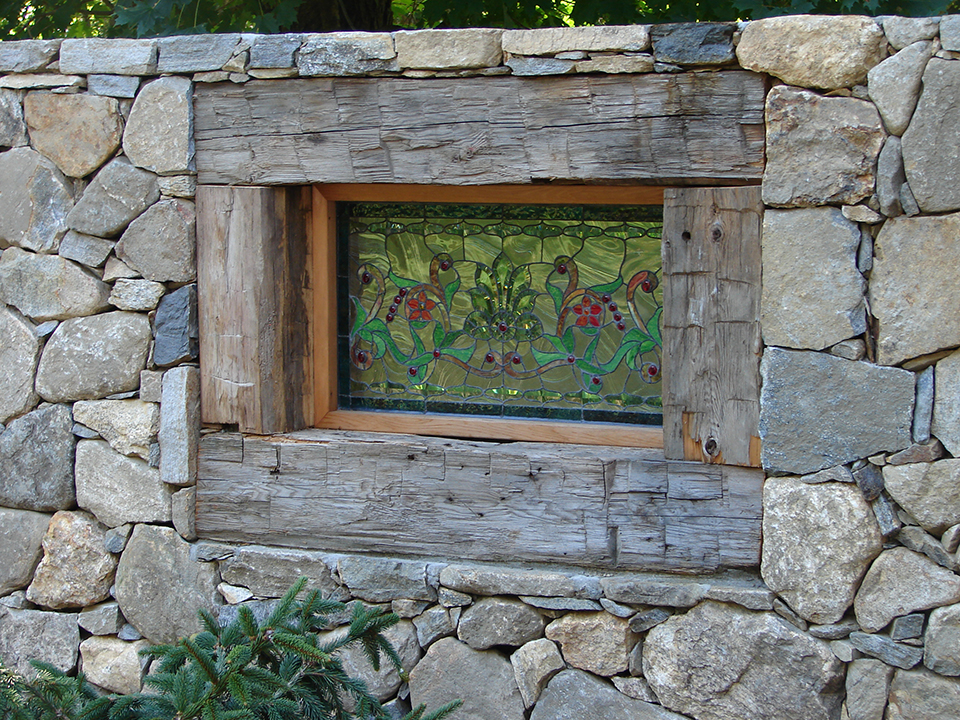 Bolton Landscape Design & Masonry's founder, Jeff Lapnow, enjoys the creative process of looking at a homeowner's property, listening to the wants and needs and then turning that gathered information into a creative plan. There is a lot of data to be gathered as well, such as acreage, the way sunlight – or lack of sunlight – hits the yard and, of course, the budget.
One homeowner in particular asked for a one-of-kind element in her freestanding stone wall and best of all, she asked Jeff to "be creative" in designing her special element.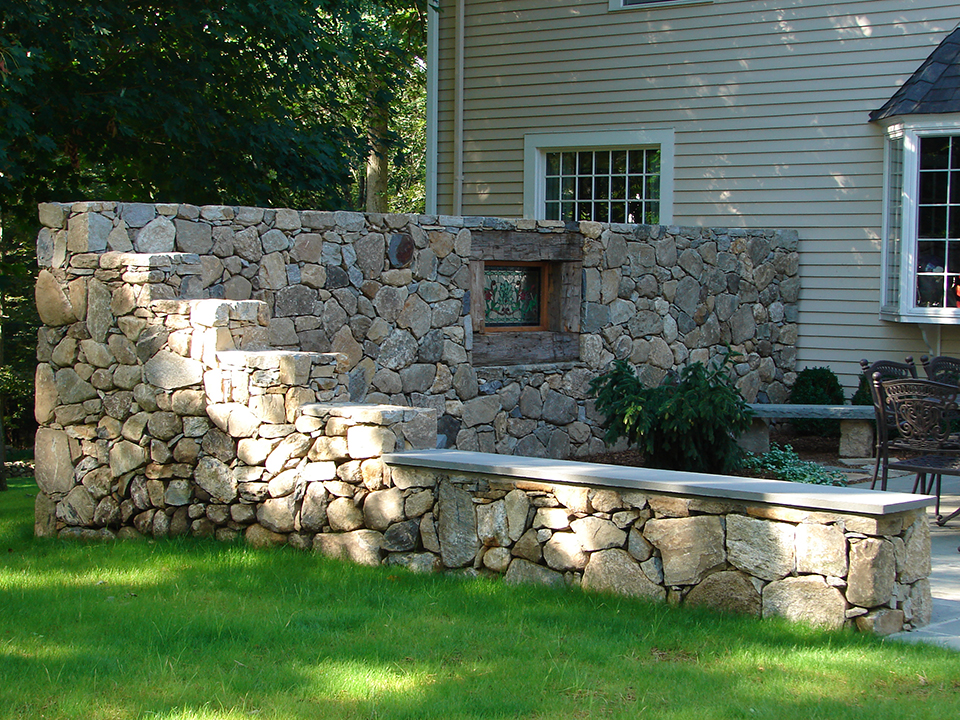 A trip to United House Wrecking provided some great inspiration and even the parts for the bespoke element in this freestanding stone wall. Jeff designed a stained glass window element in the tallest part of the wall with the window framed by large, salvaged beams. The beams protect the stained glass and form a rustic frame for the window. A second custom-made element is the terraced wall that allows for partial privacy from the backyard.
On another project, the homeowner wanted a rugged, yet architectural, backyard terrain.  A salvaged wrought iron gate became the focal point at the rear of the property as the "gate to nowhere." Held up with two large stone pillars, the gate opens and closes but as you can see its purpose is to add a touch of elegant whimsy, not to keep deer from the property! Vines planted alongside the stone pillars will climb their way up to soften the stone.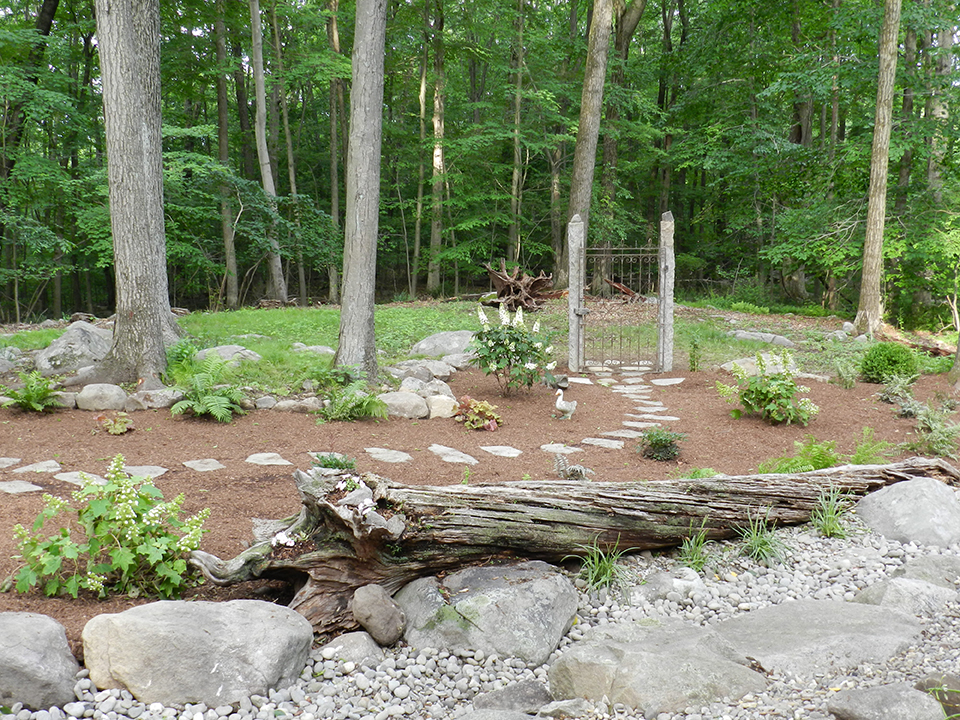 Would a creative element of beauty be something of interest in your backyard? You never know what Jeff Lapnow and the Bolton Landscape Design and Masonry team will dream up for you.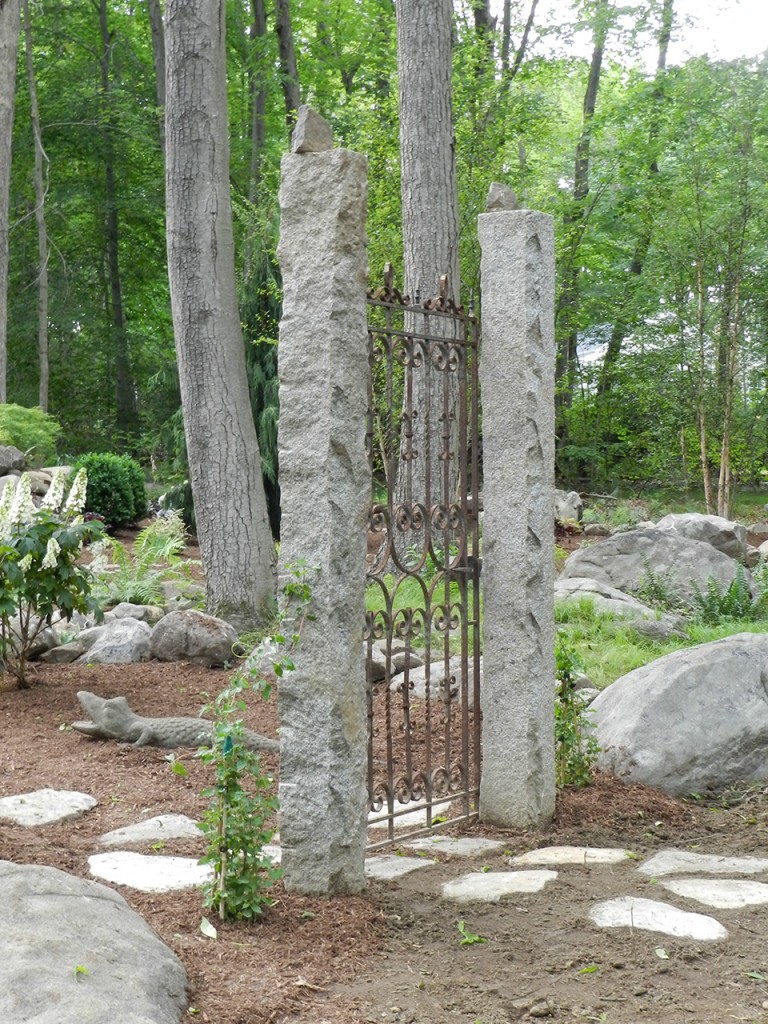 SaveSave
With over 40 years of serving customers in the Wilton, CT and surrounding area, Bolton Landscape Design & Masonry gives homeowners a new landscape they can enjoy for many years to come. More than a landscaper, Bolton creates outdoor environments that include walkways, patios, fireplaces, waterfalls, ponds, stone walls, fencing, and landscape lighting. All installations are expertly installed by our team. Contact us today for a free estimate for all of your landscape design needs. We look forward to dreaming up a one-of-a-kind new yard for you.
SaveSave
SaveSave
SaveSave