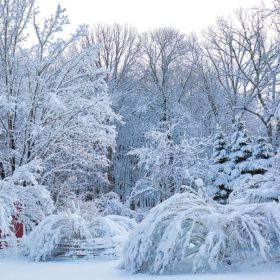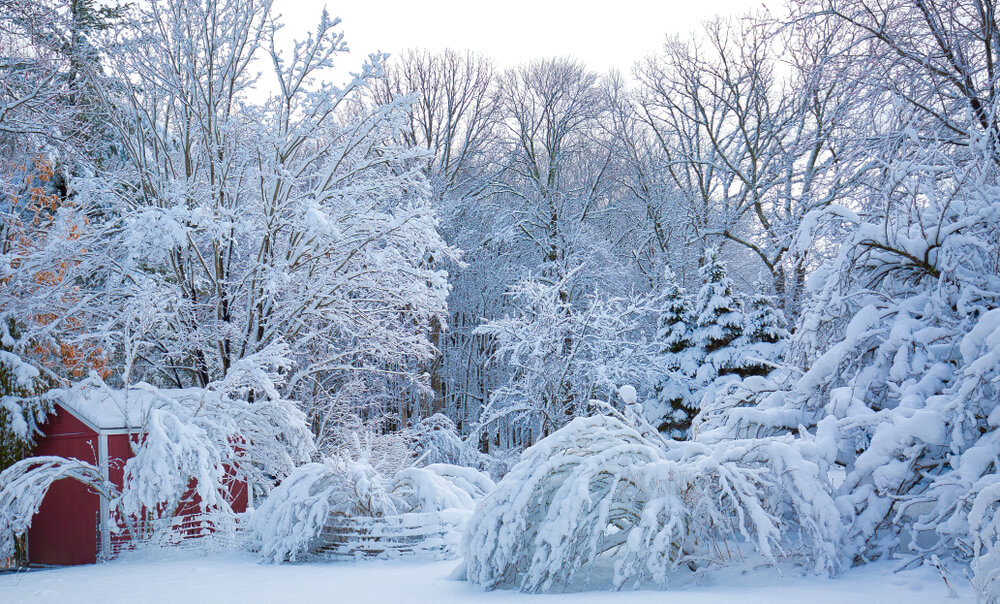 We have experienced three Nor'easters in the first two weeks of March and many properties have nor'easter damage to trees and shrubs from heavy snow and wind. Damage may be as simple as a Boxwood or Forsythia bent over from the heavy snow or as severe as total destruction to prized ornamental trees or shrubs.
What are the steps necessary to assess the damage? All of these options should be discussed with a landscape or tree professional.
Many of the more flexible trees and shrubs will stand back up once the snow is removed or melts. Sometimes it takes a while for the plant to return to how they once looked. If you have shoveled recently, you know how heavy and wet the snow is from these recent Nor'easters.
Some ornamental trees and shrubs end up with broken branches and smaller limbs that have bent awkwardly but not broken. They may not look as beautiful as they once did but they more than likely won't die. Proper conservative pruning is the solution. A professional will flush off the broken areas and bark, tracing where there has been a tear in the bark. It may take some time, but most of the areas will fill in with new growth.
Small to medium size trees sometimes uproot with no other damage to the tree. Many times landscapers can set these trees upright and use the duckbill bracing system to support the tree and give it a chance to root itself again. Over time, the tree may live a long healthy life.
When too many large limbs are lost, or a tree splits in half, the tree may not be worth saving. Several factors in deciding to remove the tree include the safety of areas around the tree, the survivability of the tree with a large loss of limbs and, from an aesthetic point of view, is the tree so badly disfigured by the damage it is not worth saving.
With heavy nor'easter damage, it might require a large investment to try to save the trees and shrubs with no guarantee that they will survive. In that case, removing the trees and shrubs, along with their stumps and root systems, and planting a replacement tree or shrub is a better option. New trees will come with a guarantee.
Spring is a great time for planting ornamental trees and shrubs. Is it March that comes in like a lion and out like a lamb? We are all ready for Mother Nature to stop roaring like a lion. Spring officially begins in one week and we are ready.
With over 40 years of serving customers in the Wilton, CT and surrounding area, Bolton Landscape Design & Masonry gives homeowners a new landscape they can enjoy for many years to come. More than a landscaper, Bolton creates outdoor environments that include walkways, patios, fireplaces, waterfalls, ponds, stone walls, fencing, and landscape lighting. All installations are expertly installed by our team. Contact us today for a free estimate for all of your landscape design needs. We look forward to dreaming up a one-of-a-kind new yard for you.