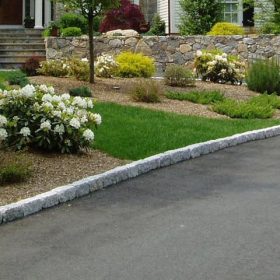 Landscaping, Masonry, Fencing, Property Maintenance, Patios and Walkways in Ridgefield CT
Bolton Landscape Design and Masonry provides Landscaping and Landscape Design services in Ridgefield, CT. We specialize in landscape lighting, waterfalls & ponds, irrigation or sprinkler systems, excavating, grading, and plantings of all sorts. Our landscaping experts take time to learn about your land to provide the best service with you in mind.
Bolton Landscape also performs Masonry in Ridgefield, CT. We handle all types of jobs including intricate Belgian Block and Cobblestone Aprons, sturdy Stone Walls, Custom Outdoor Grills, Barbecues, Fire Pits, and Outdoor Fireplaces. Our experienced masons in Ridgefield, CT know how to compliment your backyard, Patios and Walkways, taking cues from the surrounding landscape to create effortlessly beautiful stone features. We can even create elegant privacy Fencing using a combination of stone and wood to mimic the Ridgefield, CT landscape.
No matter your needs, our Property Maintenance team can make sure your lawn and landscape is healthy and vibrant. We strive to enhance and preserve the natural beauty in each unique landscape we work in. Mowing, edging, mulching, pest control, fertilizer programs, irrigation systems, tree pruning, even plowing– all performed onsite in Ridgefield, CT.
If you want to get the most out of your yard and landscape in Ridgefield, CT, let us know! Estimates and advice are always free. Call (203) 761-9775 or drop us line: Contact